e and the Nature of Human Heart", this year's congress held its opening ceremony in the Parliament Palace and the President of Mongolia had sent his cheering greetings to the opening.Presid
ent's message was sounded by MsTs.Khulan, the Presidential Advisor on Cultural and Religious Policy.
His greeting stressed importanceto "re-educate people in the nature and beauty of human languages and remind them the magic powers of poetry at this modern world where people worship material industry and technological advancements as sole defining factors of human existence due a distorted picture of, and pre-installed programs about social developments."
Greeting speeches were made by Maurus Young, French poet and the President of the World Academy of Arts and Culture, G.Chuluunbaatar, Ph.D, professor and Minister of Education, Culture and Science, and Ts.Buyanzaya, Chairman of the Mongolian Writer's Union.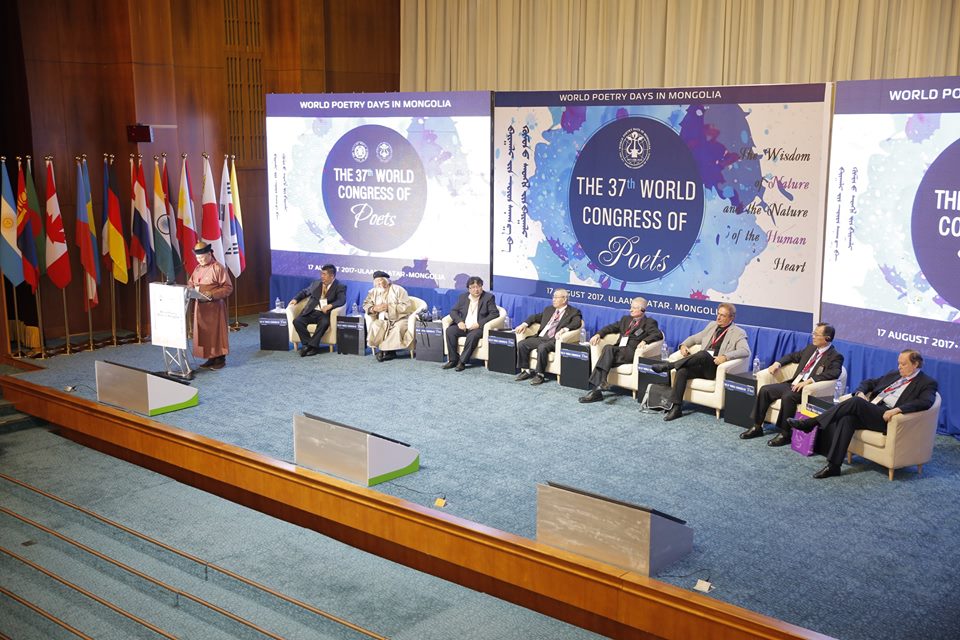 The main report at the Congress was "Poetry and the Wisdom of Nature" by Mongolian poet G.Mend-Ooyo which was followed by "Mongol shamanic spirits and their chants bridging heaven and earth" by professor S.Dulam, "Poetry as an intimate link between nature and man" by Spanish poet, Ph.D Justo Jorge Padron, "Our ancient cultures of the shared-self and the Survival of the Planet Earth" by Philippines film maker KidlatTahimik, and "Transforming Arts ofUndurGegeenZanabazar" by Buddha-sculptor lama, Ph.DG.Purevbat, which were all enjoyed by the audience. Especially, striking similarities between verses of Mongolian popular song about country and verses of Philippines National Song as KidlatTahimik presented was fascinated all participants of the congress.